Professional Website Designs Proven to Grow Your Bottom Line
Your website is arguably your most important marketing asset, and if it isn't growing your business, it's time for a new one. Consider this:
– 93% of online experiences start with a search engine.
– 63% of consumers primarily use your company's website to find and engage with you.
– 75% have judged a company's credibility based on its website design.
A technically sound and user focused website, tied in with the vision and goals for your business. 
Web design from Purpose Media creates a digital platform your customers want to engage with, with the support and strategy to deliver the functionality and integration you need, backed by stunning visuals. 
Mixing creativity with technical know-how, branding performs better when it works as part of your marketing approach. We're here to make it happen.
How can we help you?
If you want to see more on digital marketing services, contact us directly. Even if you don't end up hiring us, you'll walk away with at least 2-3 insights to measurably improve your online marketing performance.
What's Included In Our Web Design Services
CUSTOM MOBILE FRIENDLY WEBSITES
The world has gone mobile—more than 50% of all website queries happen on a mobile device. Can your website handle it? We design your website with mobile in mind—optimized and coded for the most up-to-date mobile SEO practices.
NO HIDDEN FEES OR WEBSITE OWNERSHIP CLAUSES
Some web design companies have contract clauses that say if you leave, you have to pay a large fee, or you won't get to take your website with you. That's not the case with us. Once it's built, it's 100% yours.
LANDING PAGE DESIGN & OPTIMIZATION
What does it take for a landing page to convert? We know the answer. With the right components and copy, we can improve your site's performance. Learn more about our landing page design and optimization services!
Your website should be your #1 sales and marketing tool for your business. Does your website's copy represent your best pitch? If you need compelling, SEO-friendly copy and content for your website
Wondering why your competitors are outperforming you?
 It most likely has something to do with their website and what's on it:
– Your website needs to be visible – When we say visible, we mean in search engines like Google. Over 90% of online experiences begin with a search engine, so your website needs to be optimized for the best search engine optimization (SEO) practices. When you choose our website design company, you're guaranteed to have a website optimized for SEO.
– Your website needs to be mobile friendly – 57% of online traffic now comes from smartphones and tablets, and 57% of users say they won't recommend a business with a poorly designed mobile site.  If that's not enough to convince you, Google also ranks mobile websites higher in the search engine results.
– Your website needs to be secure – Data breaches and hacked consumer information have been big topics of discussion recently—and your website visitors know this. If your website has any place where users can fill in personal information (even if it's just a phone number and email address) it needs to be secure. Google also gives preference to secured websites in the search results.
– Your website needs to be fast – Website visitors need to see something happen on your site in under three seconds. If not, 40% of them will leave and go to another website. Even a one-second delay can cause a 7% reduction in conversions.
– Your website needs an optimal user experience – Once your page loads, users form an opinion in 0.5 seconds. They expect to be able to find information easily and quickly—especially from a mobile device.
From design to content, our team will handle it all to give you a turn-key website:
Hosting and coding

Website design

Advanced analytics tracking

Optimization for SEO

Existing content import

Lead form creation and tracking

Website compatibility across all browsers and devices

Integration with social media pages

XML sitemap creation and submission

And more!
What's more, you will 100% OWN your website—unlike a lot of other local website design companies that hold it hostage. You'd be surprised how many web design companies have hidden clauses in their contracts.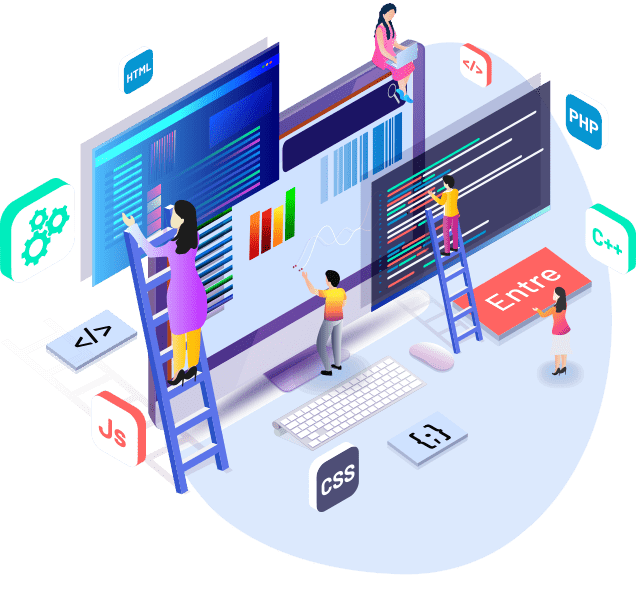 HOW MUCH DO WEBSITE DESIGN SERVICES COST?
One question we get a lot is "How much does a website cost?"
Truthfully, you can find websites for pretty much any price—but you get what you pay for.
When done right, a website puts your audience first.
Using a mix of technical expertise and creativity we build websites that engage customers, because they are our complete focus through every step of the journey.
Create a website that is built for purpose and delivers results.
Here's what goes into the cost of a website:
​Hosting –  This is the service or company providing space on the internet for your website. Hosting providers include WPEngine (our recommendation if you have a WordPress website), GoDaddy, InMotion, and others.

​Domain name – This is shown as www.yourcompany.com, and is usually a yearly payment.

​Design – Some designs are free, other cost money.

​Plugins and extensions – Typically, the more plugins you want, the more expensive a website gets.

​The complexity of design – The more customized your website is, the more expensive it will be.
Our web design services aren't one size fits all—there are no cookie-cutter solutions, at least not from the best companies. A good website design agency will help you figure out the best type of website for your business. What's important is that your website is beautiful, thoughtfully laid out, and lead-focused.
Your website is the most important marketing tool you have.
It's the hub of your inbound marketing strategy and it's the number one thing your prospects want to explore before making a purchase.
You also need to continually update it to keep up with the modern customer's expectations. Most website designs only have a life expectancy of 2-5 years.