Email marketing is a form of direct marketing that uses email to promote your business's products or services. It can help make your customers aware of your latest items or offers. It can also play a pivotal role in teaching folks about your brand or keeping them engaged between purchases. And it has become such a popular marketing tool for businesses partly because it forces the user to take some kind of action; an email will sit in the inbox until it's read, deleted, or archived. But email is also one of the most cost-effective tools available.
Email marketing can help you build a relationship with your audience while also driving traffic to your blog, social media, or anywhere else you'd like folks to visit. You can even segment your emails and target users by demographic so you're only sending people the messages they want to see most.
How can we help you?
If you want to see more on digital marketing services, contact us directly. Even if you don't end up hiring us, you'll walk away with at least 2-3 insights to measurably improve your online marketing performance.
What's Included In Our Email Marketing Services
Services from our full-service email marketing agency always include a custom-designed email template, professional copywriting services, and advanced analytics tracking and reporting:
1. BUILDING OPT-IN EMAIL LIST
Working with your team to add opt-in email signs up to contact forms

Utilizing other social media and paid strategies to continue to grow the list

Adding new opt-in sign-ups for before each new email blast
2. DESIGNING CUSTOM AND PROVEN-TEMPLATE EMAIL LAYOUTS
Analyzing what content most users interact with on your site

Working with experienced designer to create email template that fits your brand

Using data from previous email campaigns to incorporate proven design elements
3. CREATING CUSTOM EMAIL CONTENT
Working with your company and target audience to write valuable content for them

Running contests and giveaways to increase engagement

Designing for engagement and conversions
4. TRACKING YOUR EMAIL CAMPAIGNS
Tracking sends and delivery rates

Tracking open and click-through rates

Tracking web visits, leads, sales, and revenue for each email blast
5. TESTING YOUR EMAIL CAMPAIGNS
Split-testing subject lines

Split-testing send times and dates

Split-testing copy and offers

And more!
6. ADVANCED EMAIL MARKETING STRATEGIES
Marketing automation

Customer retention email

Win-back email campaigns

And more!
Why Choose Email Marketing Services?
It's a Cost-Effective Way to Grow Your Business
The use of email to promote a business's products and services. Email marketing can make the customers on your email list aware of new products, discounts, and other services. It can also be a softer sell to educate your audience on the value of your brand or keep them engaged between purchases. It can also be anything in between. INFINITE INFO can help you design, build, and optimize your email marketing to get the best ROI.
You Have a Business to Run—Let Us Manage Your Email Marketing Campaigns
Most business owners simply don't have the time, tools, or resources to create content and manage on-going email marketing campaigns in-house. Nevertheless, email marketing is a foolproof way to increase your overall marketing performance, and it perfectly complements and enhances other types of marketing strategies such as pay per click advertising, SEO, print, and TV.
That's why we offer full-service email marketing. We do everything for you, from idea generation to execution and reporting.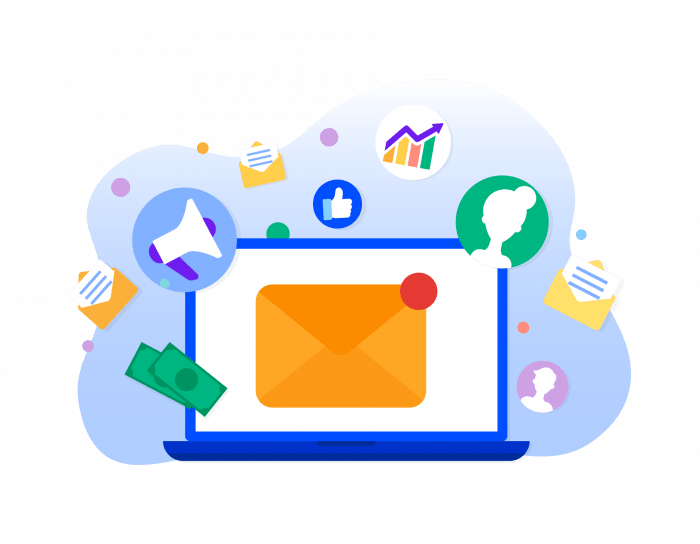 What Types of Companies Can Benefit from Email Marketing? Do you have a target audience? Then yes, your company can benefit from email marketing.
Email marketing strategy still plays the biggest role in how well email marketing performs like all types of marketing
 But some companies have an inherent advantage. INFINITE INFO specializes in newsletters and email marketing campaigns for small businesses, enterprises, and e-commerce, in addition to
If you own a business with an existing customer base, email marketing campaigns are one of the best ways to drive referrals, leads, and sales at a low cost.